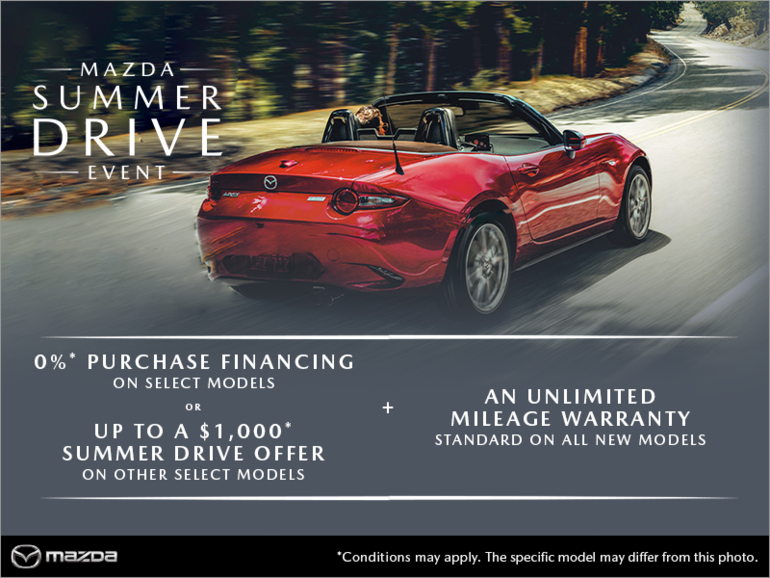 It's the Mazda Summer Drive Event!
Receive 0% purchase financing on select models or up to a $1,000 Summer Drive Offer on other select models!
Plus, get an unlimited mileage warranty standard on all new models!
Some conditions apply. Hurry, this offer ends on September 3rd, 2019.
▲0% APR Purchase Financing is available on select new 2018 Mazda models, 2019 CX-3, 2019 Mazda6. Terms vary by model. Based on a representative agreement using an offered pricing of $29,245 for the new 2019 Mazda6 GS (G4SN89AA00) with a financed amount of $29,245, the cost of borrowing for a 48-month term is $0, monthly payment is $609, total finance obligation is $29,245. Offer includes freight and P.D.E. of $1,795, $100 Air Conditioning charge (where applicable). Offer excludes PST/GST/HST and the specific duty on new tires.
▼Summer Drive offer (value up to $1,000) is available to qualifying retail customers who cash purchase/finance/lease a select new, in-stock 2018 and 2019 Mazda model from an authorized Mazda dealer in Canada between August 1 – September 3, 2019. Amounts vary by model: $300 on all 2018 Mazda3/Mazda3 Sport, on all 2019 Mazda6, on all 2019 CX-3. $475 on 2019 MX-5 ST GS models. $500 on all 2019 CX-5 models. Maximum $1,000 on 2019 MX-5 ST GS-P & GT, on all 2019 MX-5 RF, on all 2018 Mazda6, on all 2019 CX-9 models. Summer Drive offer applied before taxes. Some conditions apply. NOTE: Summer Drive offer not available on 2019 Mazda3 models. See dealer for complete details.
*Offer available on retail leases of new 2019 2019 Mazda3 GX (DVXK69AA00)/
2019 Mazda3 Sport GX (SVXK69AA00)/
2019 Mazda6 GS (G4SN89AA00)/
2019 CX-3 GX (HVXK69AA00)/
2019 CX-5 GX AT (NVXL89AA00)/
2019 CX-9 GS (QVSM89AA00)
with a lease APR of 2.7%/2.7%/1.5%/2.49%/3.3%1.95%
and 130 bi-weekly payments of $117/$138/$158/$117/$158/$198 for 60 months, the total lease obligation is $15,988/$18,736/$22,504/$16,759/$23,197/$27,151, including down payment (or equivalent trade-in) of $750/$750/$2,000/$1,500/$2,600/$1,400. First monthly payment is due at lease inception. 20,000 km per year mileage allowance applies; if exceeded, additional 8¢ per km applies (12¢ per km for CX-9 models). Offered leasing available to retail customers only. Payments cannot be made on a weekly basis and are shown for informational purposes only.