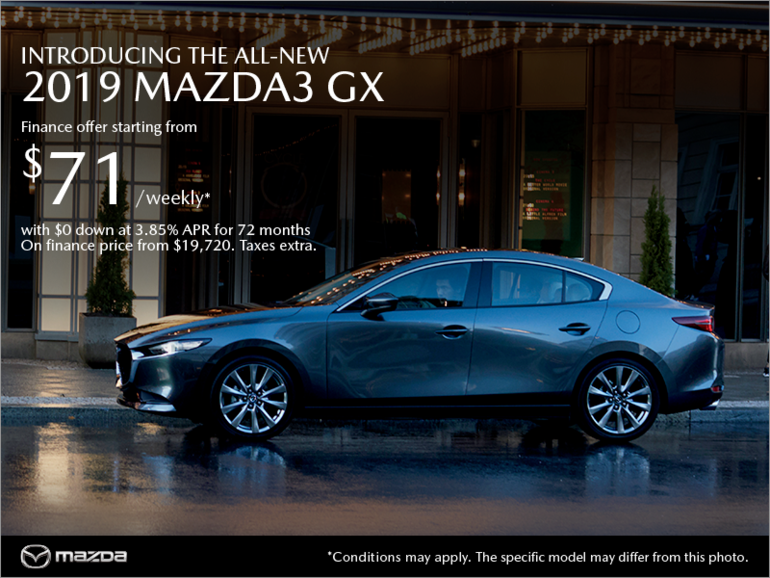 Finance the 2019 Mazda3 GX starting from $71 weekly for up to 72 months at 3.85% APR with $0 down.
On finance price from $19,720. Taxes extra. Also available with i-ACTIV AWD.
Some conditions apply. This offer ends on April 1st, 2019.
Hurry up and book your test drive today!
▼Shift Into Spring Credit offer (value up to $1,000) is available to qualifying retail customers who cash purchase/finance/lease a select new, in-stock 2018 and 2019 Mazda model from an authorized Mazda dealer in Canada between March 1–April 1, 2019. Amounts vary by model: $300 on all 2018 Mazda3/Mazda3 Sport, on all 2019 CX-3 and on all 2018 & 2019 CX-5 models. $475 on 2019 MX-5 ST GS models. $750 on all 2018 MX-5 ST/MX-5 RF, on 2019 MX-5 ST GS-P & GT, on all 2019 MX-5 RF models. Maximum $1,000 on all 2018 Mazda6, on all 2018 & 2019 CX-9 models. Shift Into Spring Credit applied before taxes. Some conditions apply. NOTE: Shift Into Spring Credit offer not available on 2019 Mazda3 models. See dealer for complete details.
*Based on a representative example using a finance price of $19,721/$23,121/$22,515/$29,870/$28,920/$38,721 for the 2019 Mazda3 GX (DVXK69AA00)/2019 Mazda3 Sport GX (SVXK69AA00)/2019 CX-3 GX (HVXK69AA00)/2019 CX-5 GX AT (NVXL89AA00)/2018 Mazda6 GS (G4SN88AA00)/2019 CX-9 GS (QVSM89AA00) at a rate of 3.85%/3.85%/2.99%/3.95%/1.49%/3.49% APR, the cost of borrowing for a 72/72/84/84/84/84-month term is $2,397/$2,810/$/$2,466/$4,368/$1,552/$4,978 weekly payment is $71/$83/$69/$94/$84/$120, total finance obligation is $22,188/$25,931/$24,981/$34,238/$30,472/$43,699. Taxes are extra and required at the time of purchase.
†Cash purchase discount for all new 2018 MX-5/2018 MX-5 RF models is $4,000/$4,000 and cannot be combined with other offers, including lease and financing offers.
As shown, price for 2019 Mazda3 GT (DVTN89AA00)/2019 Mazda3 Sport GT (SVTN69PR01)/2019 CX-3 GT (HXTK89AA00)/2019 CX-5 GT (NXTN89AA00)/2018 Mazda6 GT (G4TM88AA00)/2019 CX-9 GT (QXTM89AA00)/2018 MX-5 GT (L2TK68AAOO)/2018 MX-5 RF GT (L3TK68AA00) is $28,321/$30,521/$33,115/$39,920/$38,170/$50,970/$41,665/$44,665.
All prices include $25 tire tax, $100 a/c tax where applicable, freight & PDI of $1,695/$1,795/$1,895 for Mazda3/Mazda6, MX-5/CX-3, CX-5, CX-9. Taxes extra.
License, insurance, taxes and down payment (where applicable) are extra and may be required at the time of purchase. Dealer may sell/lease for less. Dealer order/trade may be necessary on certain vehicles. Unless otherwise stated herein, offers valid February 1-28, 2019, while supplies last. Lease and finance on approved credit for qualified customers only. Offers subject to change without notice. Visit mazda.ca or see your dealer for complete details.