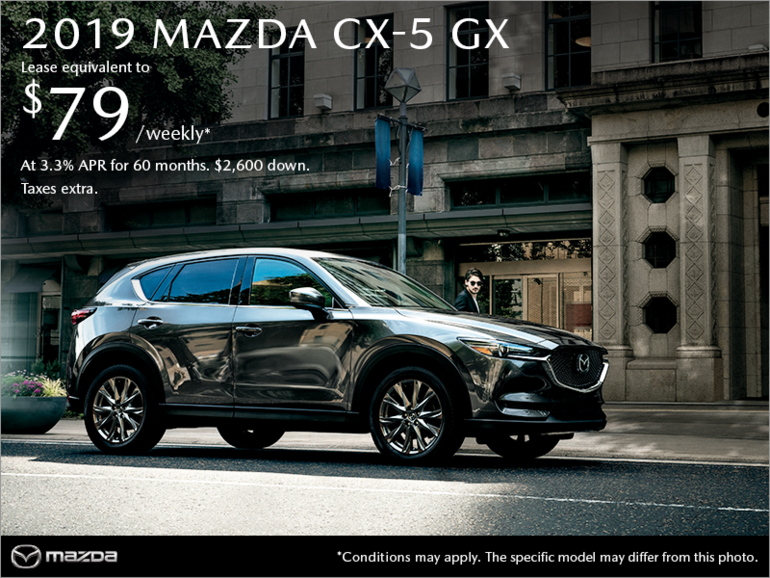 Lease the 2019 Mazda CX-5 GX starting from only $79 weekly for up to 60 months at 3.3% APR with $2,600 down.
Taxes extra.
Some conditions apply. This offer ends on September 3rd, 2019.
*Offer available on retail leases of new 2019 2019 Mazda3 GX (DVXK69AA00)/
2019 Mazda3 Sport GX (SVXK69AA00)/
2019 Mazda6 GS (G4SN89AA00)/
2019 CX-3 GX (HVXK69AA00)/
2019 CX-5 GX AT (NVXL89AA00)/
2019 CX-9 GS (QVSM89AA00)
with a lease APR of 2.7%/2.7%/1.5%/2.49%/3.3%1.95%
and 130 bi-weekly payments of $117/$138/$158/$117/$158/$198 for 60 months, the total lease obligation is $15,988/$18,736/$22,504/$16,759/$23,197/$27,151, including down payment (or equivalent trade-in) of $750/$750/$2,000/$1,500/$2,600/$1,400. First monthly payment is due at lease inception. 20,000 km per year mileage allowance applies; if exceeded, additional 8¢ per km applies (12¢ per km for CX-9 models). Offered leasing available to retail customers only. Payments cannot be made on a weekly basis and are shown for informational purposes only.
As shown, price for
2019 Mazda3 GT (DVTN89AA00)/
2019 Mazda3 Sport GT (SVTN69PR01)/
2019 CX-3 GT (HXTK89AA00)/
2019 CX-5 GT (NXTN89AA00)/
2019 Mazda6 GT (G4TM89AA00)/
2019 CX-9 GT (QXTM89AA00)/
2019 MX-5 GT (L2TK69AAOO)/
2019 MX-5 RF GT (L3TK69AA00) is
$28,320/$30,520/$33,115/$39,920/$38,520/$50,970/$42,265/$45,265.
All prices include $25 tire tax, $100 a/c tax where applicable, freight & PDI of $1,695/$1,795/$1,895 for Mazda3/Mazda6, MX-5/CX-3, CX-5, CX-9. Taxes extra.
Licence, insurance, taxes and down payment (where applicable) are extra and may be required at the time of purchase. Dealer may sell/lease for less. Dealer order/trade may be necessary on certain vehicles. Unless otherwise stated herein, offers valid August 1 – September 3, 2019, while supplies last. Lease and finance on approved credit for qualified customers only. Offers subject to change without notice. Visit mazda.ca or see your dealer for complete details.
*Mazda Unlimited refers only to an unlimited mileage warranty program under the terms of which there are no mileage limitations on the following specific Mazda warranties: (i) 3-year new vehicle; (ii) 3-year roadside assistance; (iii) 5-year powertrain; and (iv) 7-year anti-perforation. Mazda Unlimited is standard on all new models. All Mazda warranties remain subject to the terms, limitations and restrictions available at mazdaunlimited.ca.