New Mazda CX-30 Images from the 2019 Geneva Motor Show
March 15 2019, Destination Mazda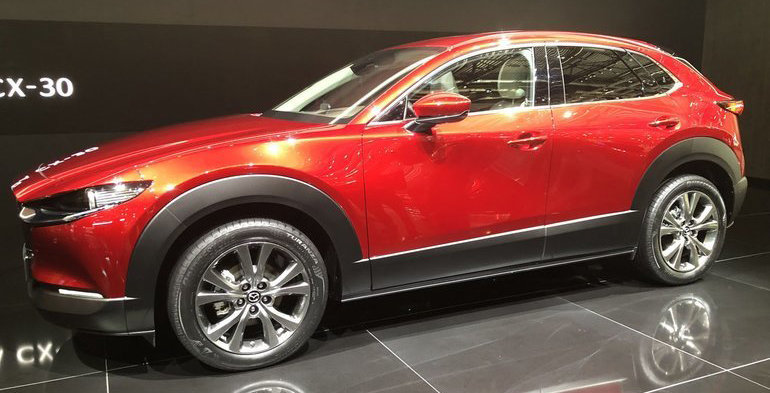 The brand-new Mazda CX-30 was one of the highlights of last week's Geneva Motor Show media days. The CX-30 is a new SUV that will slot between the CX-3 & CX-5 and is planned for next year.
We don't know a lot about the brand-new Mazda CX-30 at the moment except that it will use Mazda's current SKYACTIV engine technology. Early reports suggest that the CX-30 will get the SKYACTIV-X engine variant which will produce 180 horsepower. Design and other elements will also be similar to the all-new 2019 Mazda 3.
The new SKYACTIV-X engine is designed to provide the efficiency of a diesel engine with increased levels of torque by using both spark and compression ignition. It's a unique engine that Mazda says will improve torque by 30 percent while reducing fuel consumption by 20 to 30 percent.
While we may not have all the specs just yet, we can certainly speculate! It will likely be more spacious both inside and in the trunk than the Mazda CX-3. As a matter of fact, it will likely replicate the interior versatility of the Mazda CX-5, but it probably won't have as much ground clearance. It also looks like the CX-30's chassis is slightly longer than that of the CX-5. The roofline also seems to slant slightly downward starting at the C pillar, giving the CX-30 a more sporty look than the CX-3 & CX-5.
It will be designed for the active family that wants the driving dynamics of a car, but with the added versatility of a hatchback and the ground clearance and driving position of an SUV. We expect it to be a front-wheel drive vehicle in the entry-level models, and offer i-ACTIV all-wheel drive on most other trim levels.
"We designed the CX-30 to be an essential partner in the customer's daily life," said Akira Marumoto, Mazda's Representative Director, President and CEO. "It will be made at key global plants so we can deliver Mazda's renowned driving pleasure and matured Kodo design to customers all over the world. Moving forward, our new products and technologies will ensure customers continue to see the value in owning a Mazda car. We aim to be recognized as a brand that forms the strongest of bonds with each customer."
Contact us today to learn more about the new Mazda lineup.