Mazda3 2019 vs Hyundai Elantra 2019 Comparison
February 25 2019,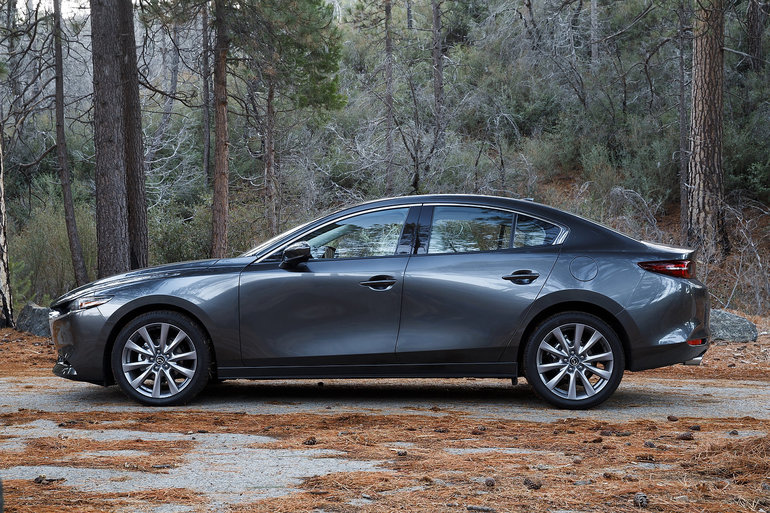 There's a new compact sedan in town since the last Los Angeles Auto Show and it's attracting a lot of attention. The new 2019 Mazda3 will be facing some tough competition such as the new Hyundai Elantra, but it has the goods to back it up.
For starters, the new Mazda3 will be one of only two compact vehicles in its segment to offer all-wheel drive. Better yet, the Mazda3 pairs its i-ACTIV AWD with its most powerful 2.5-liter four-cylinder engine. In this price range, you won't find a more powerful AWD vehicle.
Let's have a look at how the Mazda3 both FWD and AWD measures up to one of the best-selling vehicles in this segment, the Hyundai Elantra. The Elantra has been redesigned recently as well, although it was mostly a visual refresh. The core of the Elantra hasn't changed.
More Engine Options and More Power in the 2019 Mazda3
The 2019 Hyundai Elantra is offered out of the gate with a 2.0-liter, four-cylinder engine with 147 horsepower and 132 pound-feet of torque. Although this engine is fuel-efficient and offers quite a bit of power for the segment, it's less powerful than both engines offered by the new 2019 Mazda3.
The Mazda3 gets a 2.0-liter four-cylinder engine with 155 horsepower and 150 pound-feet of torque right out of the gate. As fuel-efficient if not more than the Hyundai Elantra, the base Mazda3 engine offers more passing and accelerating power than the Hyundai.
That said, the new Mazda3 can get a 2.5-liter four-cylinder with 186 horsepower and 186 pound-feet of torque. This engine can be paired with both a six-speed manual (SPORT hatchback model only) or a six-speed automatic, and it can also be paired with the i-ACTIV AWD system.
When we said that the 2019 Mazda3 is the most powerful compact sedan or hatchback available in its price range today, that's what we meant. With the new Mazda3, you get AWD starting at $26,000 or $27,000 for the more spacious Sport model plus a 186-horsepower engine. The Hyundai Elantra is FWD only.
Next up, let's talk about the 2019 Mazda3's safety features. Offered starting in the GS model at just over $22,000, the new Mazda3 features a range of active safety technologies such as automatic braking and forward collision warning, adaptive cruise control, lane departure warning and more. The Elantra offers some of these technologies, but only in the more expensive top-of-the-line version.
To learn more about the 2019 Mazda3, contact us today at Destination Mazda!