A quick look at the recent 2019 Mazda3 reviews
April 30 2019,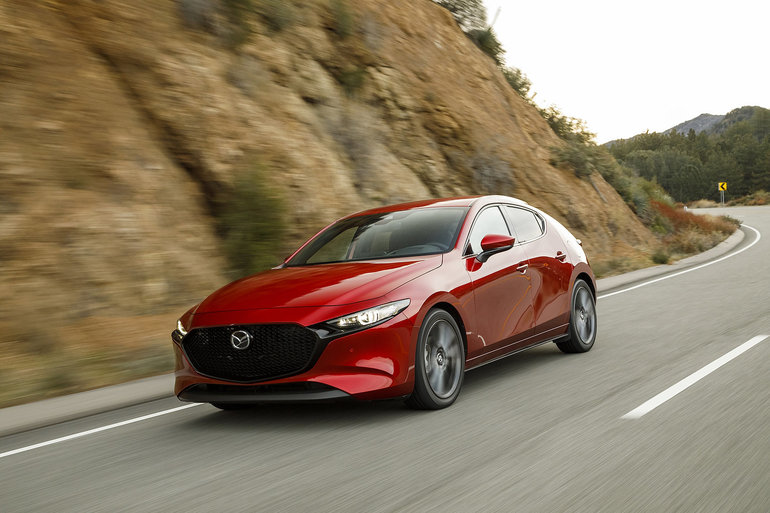 The 2019 Mazda3 was one of the most anticipated vehicles of the year ever since it was unveiled at the Los Angeles Auto Show last year. Now that it is arrived, we realize that everything Mazda promised about the new 3 was fact. The car is more fun to drive, sportier than ever, more fuel-efficient and packed with more technology including all-wheel drive. No wonder the reviews are so positive.
While looks are important, the Mazda3 takes the biggest strides beneath the shapely sheet metal. The new platform gives all of the mechanicals a solid base of operations, and it now has better sound insulation and isolation — it's now the quietest car in the segment by a wide margin. Lexus-like is not overstating things.
The big news is the addition of Mazda's i-Activ all-wheel-drive system. It drives the front wheels under normal conditions, but can transfer up to 50 per cent of power to the rear wheels, and it does so proactively. It looks at the engine, transmission, steering angle and brake usage, along with aspects like outside temperature and wiper usage, to determine when wheel slip is about to occur and reapportion the torque accordingly. For example, it pulls away using all four wheels to prevent unwanted wheelspin, and it alters the power split to help counter a wayward tendency. It works with Mazda's G-Vectoring Control Plus system.
The latest update to the system extends the original ability of G-Vectoring Control by adding a brake function. Heading into a corner, the system reduces engine torque slightly to load up the front tires. This simple action brings a crisper, more responsive turn-in. At the exit of the corner, it dabs the outside front brake to get the Mazda3 back on track in a smooth manner. It's a simple system that improves the Mazda3's responsiveness, as it proved on a hard and way-too-fast run up a delightfully twisty canyon road – Driving.ca
---
The redesigned 2019 Mazda3 looks to entice buyers with an updated design, the entertaining driving experience we expect from the brand, and a new all-wheel-drive option (front-wheel drive is standard). Again offered as a sedan and four-door hatchback, every 2019 Mazda3 is powered by a 2.5-liter naturally aspirated I-4 with 186 hp and 186 lb-ft of torque. Six-speed automatic and manual transmissions are both available.
Loaded 2019 Mazdas will come with a full suite of active safety tech, a head-up display, 12-speaker Bose sound system, 18-inch wheels, and adaptive LED headlights. If that sounds too good to be true, consider the list of features that's standard on every 2019 Mazda3, instead: An 8.8-inch infotainment screen with Android Auto and Apple CarPlay, LED headlights, an eight-speaker sound system, an electronic parking brake, and a 7.0-inch instrument cluster screen.
Motor Trend
---
The Mazda3 has always stood out as a sportier, more elegant choice than compact cars from Honda, Nissan, and Toyota that are viewed as commodities. Many driving enthusiasts who were reluctant to choose the Ford Focus or fun-to-drive Volkswagen Golf because of their questionable reliability understandably gravitated toward a Mazda3. The question surrounding the newly redesigned 2019 Mazda3: Can it still fill that same role?
The answer is mixed because the Mazda3 has dialed back on its performance quotient and instead became more comfortable, quiet, and substantial. It still stands out from the pack, but for different reasons than before.
Consumer Reports